TTT is now hosted by That Artsy Reader Girl . If you want to quadruple the size of your TBR AND find a bunch of great book blogs to follow head on over and check it out!
The topic this week is:
Characters That Remind Me of Myself
But I'm struggling with that one. So then I was thinking "Characters I admire and/or aspire to be more like," and then that got confused with Teacher Appreciation Week being this week, so I present to you
Top Ten Teachers in Books
1. James Herndon in The Way It Spozed to Be. Published in 1968, Herdon's memoir of a year spent teaching in an inner city school is both tragic and a delight. Herndon is a teacher who excelled at "kid watching" long before that was a thing. He just GETS kids, and doesn't get the system they're all part of.
2. Christy in Catherine Marshall's book of the same name. This is a book I will never re-read, because I'm pretty sure many aspects would make me wince, but as a tween and teen I loved it, and when I first started teaching in a fishing village in Latvia, I kept remembering Christy in her Appalachian one room school house.
3. Frank McCourt in his memoir, '
Tis
. Angela's Ashes gets all the glory, and fine, it's well deserved, but as a teacher, I loved the stories of how he went about getting an education and growing into his role. It's not a particularly
happy
book, but it's a good one.
Is this about middle school? I feel like this is about middle school.
4. Coach Swieteck, Mr. D'Ulney and Mrs. Halloway in
Orbiting Jupiter.
The first two judge Joseph on who he shows them he is, not on who they've been told he is. Mrs. Halloway missteps at first, but when she learns better, she apologizes and makes things right.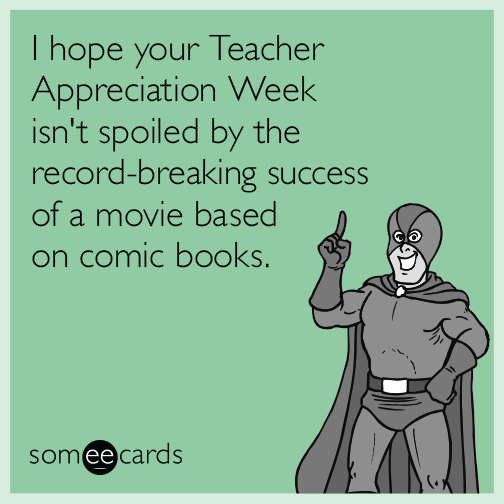 This was clearly made this year.
5. Professor McGonnagal in the Harry Potter series. She is smart and brave, kind but nobody's fool. Kids work hard in her classroom, and I rather imagine they're terrified of her at first, then slowly come to realize how much she loves them despite her firm demeanor.
6. Sylvia Ashton-Warner in her 1963 book
Teacher
, a sort of diary of her time teaching Maori children in New Zealand. Again, dated as all get-out, but she was an early proponent of connecting with kids before you try to teach them things, and of student-led learning.
7. Ms. Laverne in
Harbor Me
by Jacqueline Woodson. She makes those kids feel so safe and respected.
8. Mrs. Dunphrey in
Don't You Dare Read This, Mrs. Dunphrey
by Margaret Peterson Haddix. First, you gotta love a teacher that gets kids writing like that. Tish gradually realizes she has to tell someone what is going on in her life, and she lets Mrs. Dunphrey in. Mrs. Dunphrey handles it beautifully.
9. Which leads us directly to Ms. Stretchberry in Sharon Creech's
Love That Dog
. She teaches poetry. She empowers students. She brings Walter Dean Myers to her school. She's a rock star.
10. John from Gary Paulsen's
Nightjohn
. The man risks literal death and dismemberment in order to teach his fellow slaves to read.