With the delightful bloggers at The Broke and the Bookish moving on to other things, TTT is now hosted by just one of their contingent, That Artsy Reader Girl . If you want to quadruple the size of your TBR AND find a bunch of great book blogs to follow head on over and check it out!
The topic this week is "Things that Make Me Pick Up a Book," but I had a different top ten post that pretty much wrote itself, so that's what I'm going with.
I didn't intend to read a book each day of my spring break, and technically, that's not what I did. Some books took a few days and some days I sped through a couple of shorter books. But I did read ten books in the ten days I had off, so it all boils down to the same thing.
I'll present them in chronological order. Unsurprisingly, the first few books were short and/or easy reads. As I got further into my vacation, I tackled longer and weightier books.
Grand Theft Horse by G. Neri
is a graphic novel I've been meaning to read from my classroom library. It's a true story of a woman in Los Angeles who took and hid a horse she owned 20% of, in order to protect it from the mistreatment of the other owners. It's a classic David and Goliath tale, and I really enjoyed it. 4/5 stars.
Skeleton Tree by Kim Ventrella
is a middle grade novel by one of the several "Spooky Middle Grade" author collective that has Skyped with my classes this past month. I am trying to get copies of each of their books, since reading authors you've "met" is always cool. I am not a huge middle grade fan in general, but I'd heartily recommend the book to anyone who is. It's more sweet than spooky. 3/5 stars
Spinning by Tillie Walden
is another nonfiction graphic novel, this time a memoir. My daughter had asked me to get it for her, as she loves ice skating, books with LGBQT+ characters, and graphic novels. \It sounded like the perfect fit, but she was having trouble getting into it, and I can see why. It is grim. Tillie seems to have had a singularly joyless childhood. The book is well done, but harder to read than I'd expected. 4/5 stars
The Creativity Project, edited by Colby Sharp
was, in contrast, a complete and utter blast from start to finish. Colby, who is a Big Deal in the world of language arts for the K-8 set, gathered approximately five million amazing authors and illustrators, put their names in a hat, and set up a system in which each person sent 3 prompts to another person, who chose one to respond to for the book. So you get Sherman Alexie writing a poem celebrating story in response to John Schu's prompt about a librarian turning into a fly, Gary D. Schmidt writing a hilarious and chilling short story to finish Colby Sharp's list prompt, Tom Angleberger's poem in response to Dan Santat's drawing, and so on. The contributors are a terrific mix of well known authors and few "famous" English teachers and librarians, and the book ends with even more prompts for the reader to get inspired by. 5/5 stars.
Exo by Fonda Lee
was runner up for the Oregon Spirit award last year for best YA novel by an Oregon author. The cover didn't look very interesting, but I figured I'd give it a try. Luckily, the book was far more interesting than the cover, although (in my mind) nowhere near the book fellow runner up
Strange the Dreamer
is. (And I've yet to read the actual winner,
This Mortal Coil
.) It's a fun piece of YA dystopian sci fi, complete with love interests on opposite sides, morally grey leaders all over the place, and aliens who yes, did conquer Earth, but not for any particularly nefarious purposes. I checked out the second book too, but haven't started it yet. 3.5/5
The Blue by Lucy Clarke
is a book I picked up because
Greg at Book Haven
mentioned
in a post
that it would make a great screen adaptation. It sounded twisty, with two timelines, which I definitely love. Alas, I think I oversold it in my head. That combined with my not really liking any of the characters made it a 2/5 for me.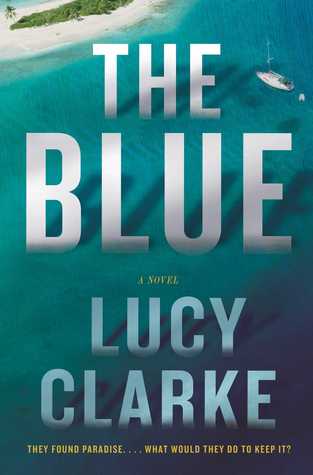 Jack of Hearts (and Other Parts) by Lev A. C. Rosen
was a ton of fun though. And it had a serious vein that I was not expecting at all, but found very affecting and thoughtful. I've been following some Twitter conversations about the importance of own voices LGBQT+ books, especially regarding teen boys and m/m sex and romance. And yep, this reads VERY differently than, say, Simon Vs. (WHICH I LOVE. No disrespect for Albertalli EVER.) Jack is an absolute treasure, though I'd never be as cool with him as his mom is. His friends are magnificent. His sex positive advice column should be a real thing. It is rare that I read a YA novel though and think, "Hm, yeah, I don't think I can justify putting this in my middle school classroom library." Then I wonder if I'm gatekeeping, and if it's because he's gay, and then I think nope, this degree of explicitness wouldn't fly if the people were straight either. I mean, frank talk about anal sex is maybe a bit much for seventh grade. But high schoolers should definitely have access to this book. 4.5/5
The Last Fifth Grade of Emerson Elementary by Laura Shovan
is a middle grade novel in verse with 18 voices. I really wanted to love it. A lot of people I respect love it. I did not love it. First of all, 18 kids in a fifth grade class? REALLY? There were 36 in my son's and 30 in my daughter's, because we'd passed a local levy to address the over crowding. I also felt like the author had taken a check list and ticked off boxes for each kid. There's The Autistic Kid, The Homeless Kid, The Girl in a Hijab, The Kid Who Just Immigrated, The Mean Girl, The Brown Boy, The ADHD Boy with a Heart of a Poet, The Bold Twin and The Shy Twin, etc. As for the poems themselves, Shovan is no Karen Hesse or Jacqueline Woodson or Sharon Creech. It's not a BAD book, but I had such high expectations. 3/5
The Queen of the Tearling by Erika Johansen
is the first book in a wonderfully rich fantasy saga that turns out to actually be a sci fi saga. I heard about it
here
, in a list of fantasy tropes and books that handle them well--this one being recommended for having "good" deaths. As soon as I finished it, I found an ebook of the next one so I could keep going. I had some reservations about how beauty and fatness were coded to represent good and evil respectively, but most of that got cleared up nicely in the next book. 4.5/5
The Invasion of the Tearling by Erika Johansen
is where we went from hints that this fantasy had sci fi underpinnings to confirmation of the fact. I like a sequel that doesn't abandon characters I've grown to love, but that still adds new perspectives and approaches. This one gives us new POVs by having the main character essentially time travel into other bodies, which I thought was an excellent way to satisfy both of my hopes. Another 4.5/5, and I'm deep into book 3 now.