It's time for the semi-annual Dewey's Read-a-Thon. I'm going to start a post here and just come back in and add to it throughout the day.
I set my alarm for 4:50 am for my 5 am start time. It is magical to think about all the other readers all over the world getting ready to start at the same time. I made some coffee and tossed some walnuts into my yogurt and finished reading
The Fate of the Tearling
on my laptop.
Then I spent some time checking out a few reading challenges. I posted a Literary Clue on the
Creating Me
blog. It was Strange the Dreamer in the Sea of Monsters with Sean Griswold's Head. HA! Then I shared my Vague Recollection on
Kait Plus Books
. It's one an actual student shared with me, and I GOT IT.
"There were kids who could fly, and it turned out that their dad wasn't really their dad…or maybe he was their dad? Something like that."
Next up was my Big Book of the day. I like to sneak one of those in early on. I'm reading Barbara Kingsolver's Unsheltered, which is really good so far. Two timelines, lots of disasters. I also had some tea and cookies. I read for an hour or so, then went back online. You could seriously spend the whole day just reading what other people are doing. My first few read-a-thons I felt like I was spending too much time checking in and participating in stuff, and not enough time reading. The next few I pretty much just read and ignored the rest of it. This time I'm just taking things as they come. Need a reading break? Go socialize online with the community. Ready to read? READ! Want cookies at 8:30 am? Well, you HAVE been up for several hours, so go for it!
First book finished.


A second Clue-based challenge. This time with the traditional suspects. Can you tell my answer?
Stack of Delightful Possibilities


Update: going in to hour 13
Mid-Event Survey
:
1. What are you reading right now?
I'm about to start New Kid.
2. How many books have you read so far?
I finished one I was 2/3 of the way into and read another. So 1 2/3.
3. What book are you most looking forward to for the second half of the Read-a-thon?
On the Come Up.
4. Have you had many interruptions? How did you deal with those?
I let myself get distracted by some work drama via email, but am finding solace in reading and thinking about larger issues.
5. What surprises you most about the Read-a-thon, so far?
I had a WONDERFUL surprise when I got into my treat bag and remembered I'd gotten myself some orange chocolate sticks at Trader Joe's.
Update: Starting hour 19
Since I last checked in, I've read two more books, a graphic novel and a YA novel. I highly recommend both of them.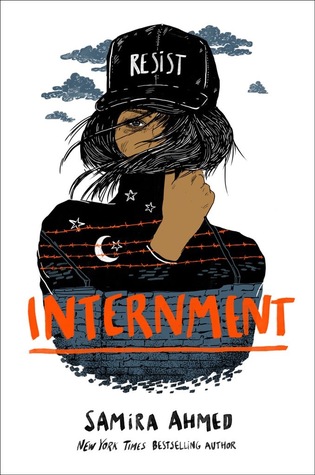 I ate some dinner--my husband made this really tasty roasted broccoli dish. I've eaten an alarming amount of crap today, so that was a nice change. My eyes are getting foggy, and three of the four books I've read today have been all "The world is going to hell in a handbasket," so I'm hoping to find a lighter book to read until I can't read no more.
Final update: Hour 22
I had a bunch of ginger candies to keep me awake, and decided to read an epistolary middle grade novel for my grand finale. To Night Owl from Dogfish is adorable, funny, and not as predictable as I thought it would be at first.
All told, I finished five books, which is one less than I typically do. On one hand, Unsheltered is a big book, and took up most of my daylight hours, but then again, I'd already read most of The Fate of the Tearling before the read-a-thon started. I think I just too more breaks than usual, and that is OKAY. I'm also calling it a night even though I feel like I could keep going if I had to. But it's nearly 3 am my time, and I am happy with what I've read today, so there you go.
BOOK AND PAGES READ
The Fate of the Tearling--final 155 pages
Unsheltered--464 pages
New Kid--256 pages
Internment--386 pages
To Night Owl From Dogfish--304 pages
PAGE TOTAL: 1,565
BEST: All of them. Seriously, for all of them I waffled between 4.5 or 5 stars.
BEST SNACKS
Realized I didn't have this one anywhere in this post.