First, let me say that I haven't yet read
Winter
or
The Rest of Us Just Live Here
. I'd been anticipating them for so long that now I'm a little afraid to read them. I guess if they live up to my hopes, they can be on next year's list.
Next, I'm pretty sure that the post of two weeks ago about my favorite "discovered" authors this year could also serve as a decent top ten overall list.
I started out by sorting all my books on Goodreads and scrolling through the 4 and 5 star ratings I gave this year. If I still remembered how great the book was, I put it on the long list. I ended up with 39 titles.
I removed the picture books (with one exception) and professional reading, which whittled it all the way down to 34 titles. This is where things got tricky.
If you ask me to name my favorite books from this year, I will shout at you, "Scorpio Races! Made You Up! Aristotle and Dante! Simon Versus! Challenger Deep!" If you tell me I need ten books, I have to turn to Goodreads, and then I don't know how to narrow things down. Should I go with my favorite books that have the fewest reviews, trying to drum up more readers for them? But of my very favorites, only
Challenger Deep
is in the running for that. (Seriously people? Why have only 2,316 of you read this? What are you doing with your lives?)
What if I pulled the ten from my list that have the lowest ratings on GR? Maybe then I could avoid having 90% shared titles with 90% of the people in the linkup. But then I'd have to leave off all five of my true favorites.
This is hard. (Or,
maybe
I'm overthinking it.)
Still, sorting my list by these two categories is pretty interesting. The most-reviewed book on my list is
Me Before You
, by JoJo Mayes, with 266,454 ratings. When I added it to the recent "new-to-me authors" TTT list, nobody seemed to recognize the book. I guess this corner of the book blogging world is pretty focused on YA.
On the other hand,
Autobiography of My Dead Brother
, by Walter Dean Meyers, has only 795 reviews, despite being by one of the authors taught in classes and lining bookshelves in middle schools and high schools all over the country. It is a graphic novel! It fits into both #BlackLivesMatter and #WeNeedDiverseBooks campaigns. I don't know how much more timely it could be, yet less than a thousand people have weighed in on it.
Of my 34 favorites, only one,
Boy, Snow, Bird
has less than a 3.5 average rating. (I know, GR star ratings are unreliable, but it's still an indication of overall opinions.) Twelve are honor roll students, with 3.5-3.99 average ratings. Twenty more are as popular with others as they are with me, earning scores above a 4.0.
Further analysis shows me that two authors make the list twice: A. S. King and Leila Sales, which will not surprise you if you read my
new-to-me TTT
post a few weeks ago.
The oldest book on my list is
Darkness Visible
, published in 1990. Best known for the wrenching
Sophie's Choice
, Styron's memoir of his struggle with depression was loaned to me when a family member was deep in the pit, and it really did aid my understanding and compassion.
It's also one of the only three nonfiction entries, all of them memoirs or biographies. One is the picture book I kept on the list,
Separate is Never Equal: Sylvia Mendez and Her Family's Fight for Desegregation
. In the tradition of (but a very different style from) Ruby Bridge's
Through My Eyes
, this book gives us a child's eye view of one of the earliest desegregation battle. Reading it to my 7th and 8th graders, over 60% of whom are Latino, opened up some great discussion on historic and current racism.
The other nonfiction entry is
Carver: A Life in Poems
, which is a biography told in verse. I loved how it illuminated different stages of George Washington Carver's journey to greatness, both as a scientist and philanthropist.
This brings me to the other novel in verse, the Newbery award winning
Crossover
. Hearing Kwame Alexander speak was one of the many highlights of the NCTE con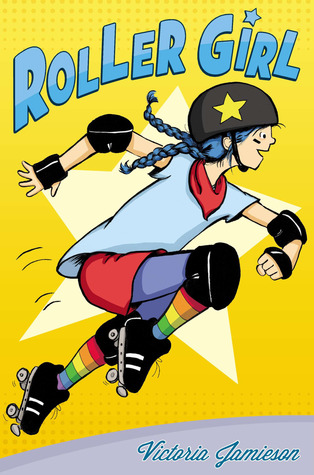 ference I went to. The man drips poetry. In college, he wrote a uninterested girl a love poem a day for a solid year. They're married now.
Other nontraditional formatting made it on the list, with four graphic novels appearing. This is a new development for me; two years ago I'd only read a couple of graphic novels, and now I seek them out.
I loved several books I felt I could classify as magical realism. A. S. King does her funky thing;
Before I Fall
does a
Groundhog's Day
repetition of an otherwise ordinary day; Thisby seems like such a believable place, other than the carnivorous water horses; one of the characters in
Bone Gap
is apparently Hades; and just when you think that
Boy, Snow, Bird
isn't going to go all Snow White on you, it kind of does.
Challenger Deep
is harder to classify, but definitely is not your typical book. It includes sketches and delusions or hallucinations, or maybe they're symbols disguised as visions? Okay, maybe this is why it has so few readers, but honestly, if you just bear with it, it is SO GOOD.
Realistic Fiction is by far the most represented genre, with sixteen entries. I think of myself as a YA fantasy and adult mystery reader, but a) there are a lot of good YA contemporaries out right now, b) as a reading teacher, I find that more of my students are drawn to these than to my favorite epic fantasies, and c) I figured that if I'm judging the CYBILS in this category this year, I should immerse myself in what's out there.
For a look at my sortable spreadsheet, go
here
.
TL:DR? Here's the list, alphabetically by title:
| | |
| --- | --- |
| Absolutely Almost | Lisa Graff |
| Aristotle & Dante Discover the Secrets of the Universe | Bejamin Salire Saenz |
| Autobiography of My Dead Brother | Walter Dean Meyers |
| Before I Fall | Lauren Oliver |
| Bone Gap | Laura Ruby |
| Boy, Snow, Bird | Helen Oyeyemi |
| Cardboard | Doug TenNapel |
| Carver: A Life in Poems | Marilyn Nelson |
| Challenger Deep | Neal Shusterman |
| Cress | Marissa Meyer |
| Darkness Visible: A Memoir of Madness | William Styron |
| Everybody Sees the Ants | A. S. King |
| Gabi, a Girl in Pieces | Isabel Quintero |
| Grim | Christine Johnson, editor |
| Made You Up | Francesca Zappia |
| Me Before You | Jojo Moyes |
| Mostly Good Girls. | Leila Sales |
| Out of my Mind | Sharon M. Draper |
| Out of the Easy | Ruta Sepetys |
| Reality Boy | A.S.King |
| Roller Girl | Victoria Jamieson |
| Separate is Never Equal | Duncan Tonatiuh |
| Sidekicks | Jack D. Ferraiolo |
| Simon Vs. the Homo Sapiens Agenda | Becky Albertalli |
| Smile | Raina Telgemeier |
| Sprout | Dale Peck |
| Tender Morsels | Margo Lanagan |
| The Crossover | Kwame Alexander |
| The Reckoning | Jane Casey |
| The Scorpio Races | Maggie Stiefvater |
| The Woodcutter | Reginald Hill |
| This Song Will Save Your Life | Leila Sales |
| Truly Grim Tales | Priscilla Galloway |
| Wonder | R. J. Palaccio |